What is BBC micro:bit?
The BBC micro:bit is a pocket-sized computer that allows children to develop their fundamental coding and programming skills.
In order to make your projects even more fascinating, BBC recently announced the new micro:bit v2 with the integrated speaker, microphone, and touch sensor.
Visit https://tech.microbit.org/hardware to review the new micro:bit's complete hardware capabilities.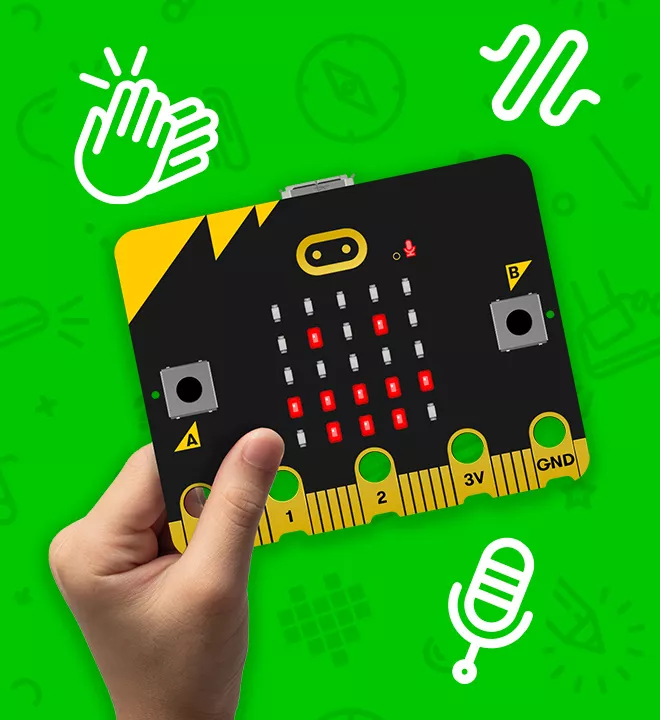 In this article, we are discussing BBC micro:bit Extention boards.
So what are Extention boards?
Extention boards are additional circuit boards that can be connected to the micro:bit to provide new features. It comes in a wide range and is readily available online, building on the strengths of the original micro:bit to create many projects, including IoT.
1. EMakeFun Extention Board for Micro:bit GPIO Expansion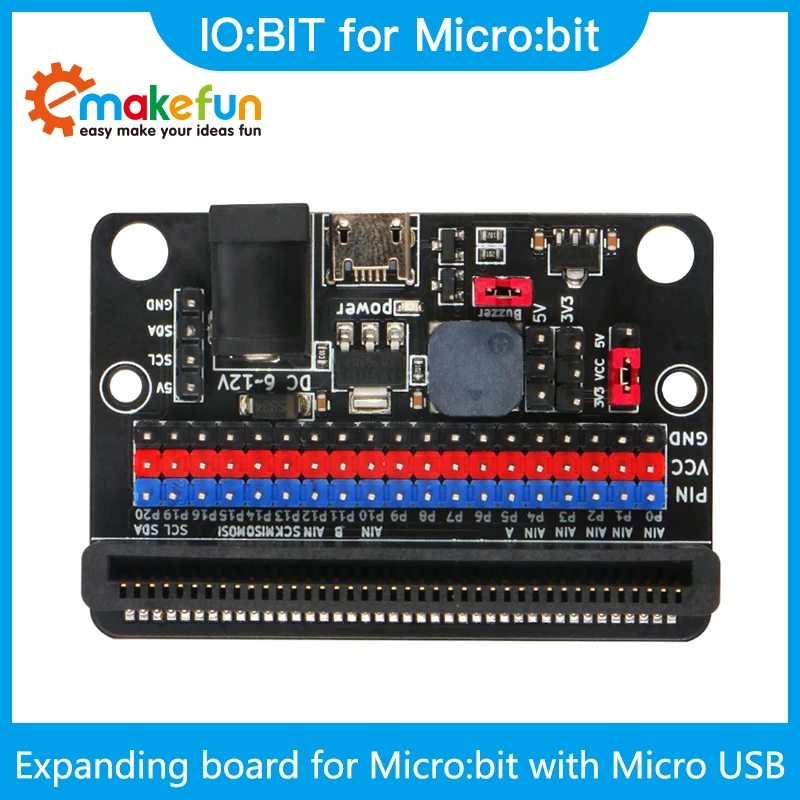 Features
Each PIN pin has a corresponding VCC and GND. Using a jumper cap, you may freely change VCC to 3.3V or 5V. The wiring is more adaptable and versatile with 3 separate 3V3 and 5V pins.
For module connections such as the LCD1602 LCD display for I2C communication, as well as more options, I2C SDA and SCL connectors as well as the matching 5V and GND pins, are available.
Passive on-board buzzer.
For power supply, we can use a DC head or micro USB port.
2. Freenove Micro:Rover Kit for BBC micro:bit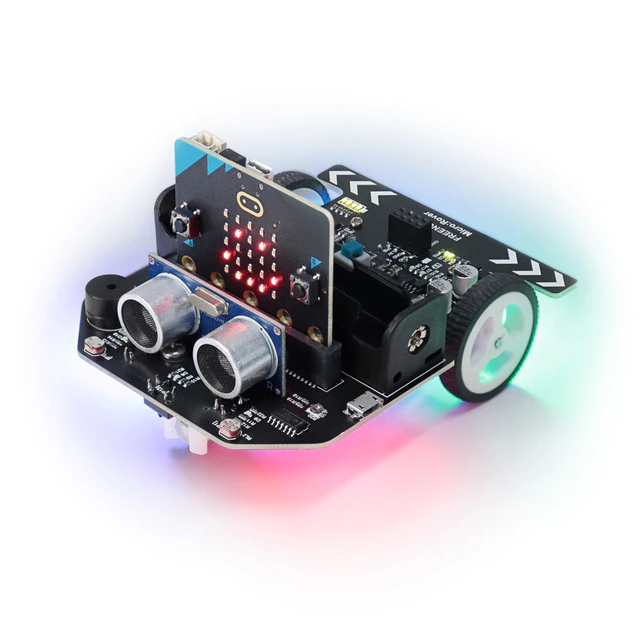 Freenoves micro:rover kit expands your micro:bit to a robot car that can be programmed and controlled using the provided android application.
Features
LDR sensor for light detection.
HC-SR 04 Ultrasonic sensor for distance measurement.
On board buzzer.
GPIO header connection for connecting external modules/sensors.
Battery-powered with in-built charging circuitry.
Onboard infrared transceivers from making line follower projects.
Android application for remote control via Bluetooth.
3. MagicBit Extention Board for Micro:bit V2.0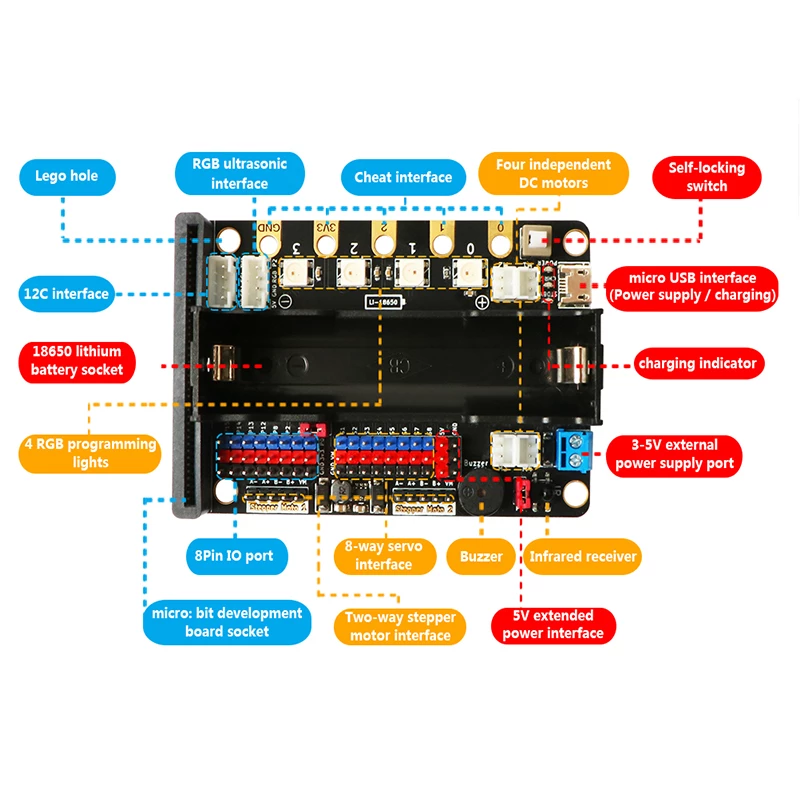 This micro:bit expansion board support 8 servos and 4 DC motors with an onboard infrared receiver and 4 RGB Full-Color LED lights.
Features
Compatible with Lego, you can create various building blocks, and you may work with MagicBit to accomplish more creative functions and unleash the creative potential of children.
3.7V lithium battery holder with an onboard Micro-USB charger.
Supports simultaneously driving 4 DC motors and 8 servos.
Supports driving of 2x 4-wire stepper motors.
On board 4 RGB full-color LED lights and 1 passive buzzer.
On-board infrared receiver to remote control via infrared remote.
Ultrasonic (RUS-04) module interface.
4. DFRobot Math Automatic Extention board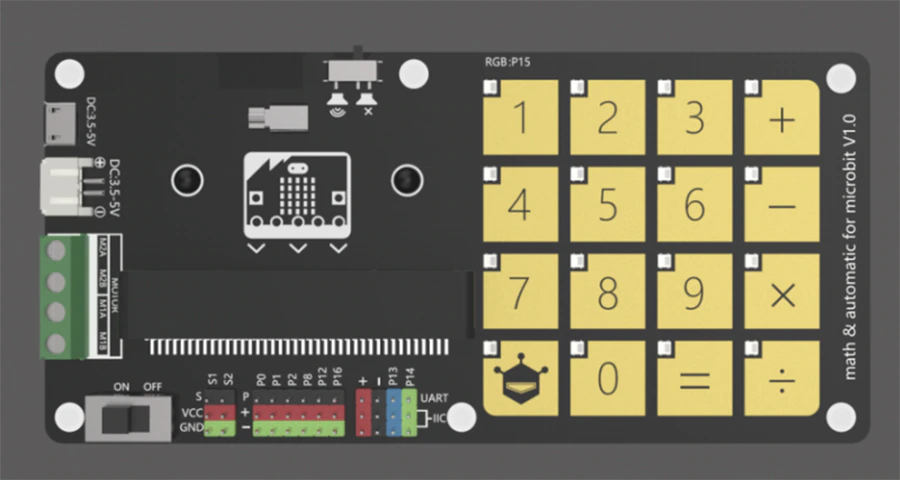 This Micro:bit extention board is for Math & Automatic. It is simple to use and appropriate for a variety of purposes. Its two types of application scenarios are automation control and math games.
The board's 16 programmable touch keys and RGB LEDs provide diverse input and output options and a wealth of functionality. The board also includes a buzzer, two motor ports, two servo ports, nine extension connectors, and other features that establish the groundwork for employing it in automation-controlling applications.
Wiki: wiki.dfrobot.com
Features
Power Supply: 1. PH2.0, 3.5-5V(three 4.5V battery box or 3.7V li-ion battery); 2. External power via USB (3.5-5V).
Buzzer ×1
Vibration Motor ×1
Servo ×2
Motor ×2
Touch Key ×16
RGB LED ×16
UART ×1
I2C port ×2
IO Expansion: P0, P1, P2, P8, P12, P16
Dimension: 136×65mm/5.35×2.56″
5. Gamepad Joystick Breakout Board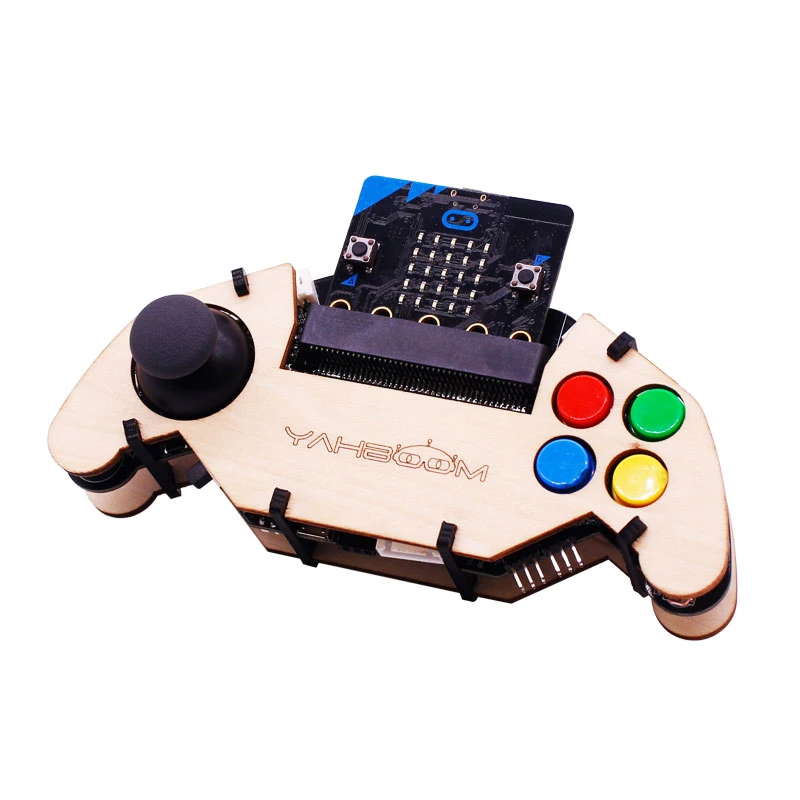 The gamepad is an expansion board based on micro:bit. It contains numerous sensor interfaces, a buzzer, four control buttons, a rocker, and four programmable RGB lights. It functions as a game controller at the same time.
The expansion board PCB is protected by the above and lower wooden sheets. With the Micro:bit, you may create your own games in addition to the dozens already available. Multiple handles can interact with each other for paying multi-player games also.
Features
All sample games are in one gamepad for micro:bit.
More than 26 kinds of experiment courses are provided.
Single-player or dual combat with dozen of games.
Expand the output of 4 channel servo, stepping motor, fan, and RGB searchlight.
Ultrasonic and potentiometers can be connected.
Environmental and durable design with wood and PCB materials.
Can be used to control micro:bit cars can be robots.
6. Programmable Robot Car for Microbit V2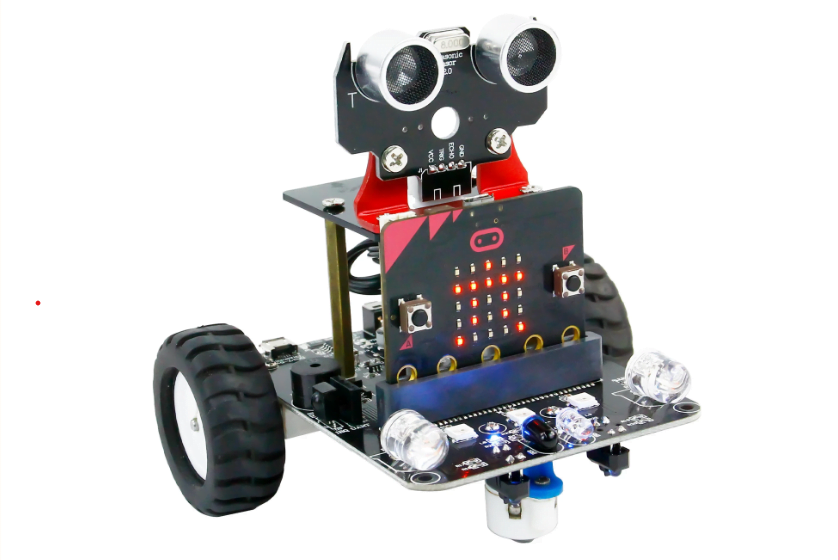 The complete vehicle uses the Micro:bit as its brain and features an elegant metal motor, a high-quality battery, and a sturdy bracket to provide a little and lovely appearance. Additionally, it may be managed through Bluetooth via an Android mobile app.
It is an excellent option for all makers, educators, and enthusiasts. The company also offers three different types of full courses: easy development board experiments, challenging expansion board experiments, and exciting smart robot experiments.
Features
Remote control via Android application.
Obstacle avoidance sensor.
An infrared receiver can be used to control the car using an infrared remote.
SPI Interface.
WS2812 RGB addressable LED x3.
10mm RGB LED.
3.7 Lithium battery connecter with charging circuitry (can be charged via micro USB port).
Passive buzzer.
Hc-Sr04 Ultrasonic Module interface.
Servo motor interface.
7. BBC Micro: bit DIY Kit Mini Breadboard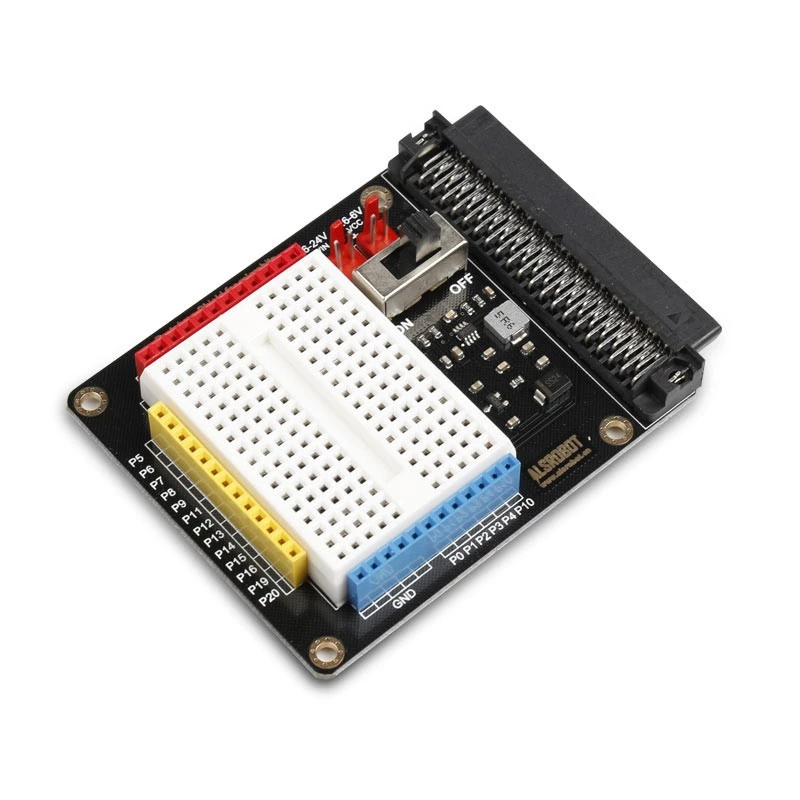 Micro: bit circuit building is challenging for beginners due to its small size. With this board, you may use the several GPIO connectors on the bottom edge of the BBC micro: bit's PCB to connect extra components to the device. This Micro:bit Extention board has a small breadboard, making it simple to design circuits there.
8. Microbit Extention Board Building Block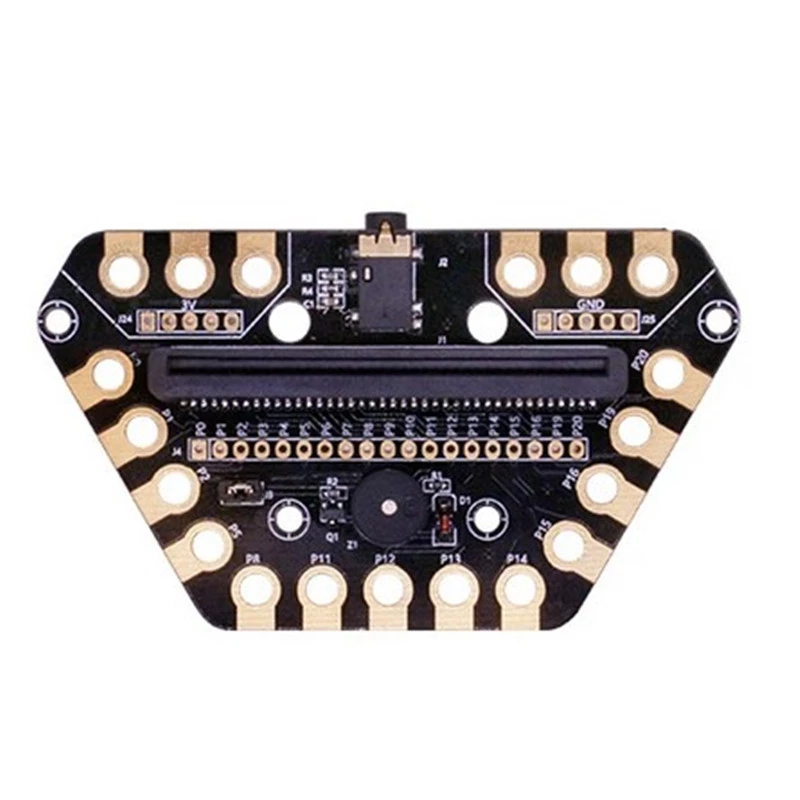 The addition of 13 interfaces without interfering with the IO port on the micro:bit development board is this adapter board's most notable feature. For various do-it-yourself experiments, external alligator clips can be utilized with it. Additionally, a micro:bit slot, passive buzzer, headphone jack, and a LEGO hole are integrated. Therefore, DIY enthusiasts must have this adaptor board.
Features
Serial port ínterface
Buzzer with switch
4 channels servo interface
Touch switch
IO interface pins
IIC interface
Audio Jack
USB for power
9. Keyestudio Joystick Breakout Board for BBC Micro:Bit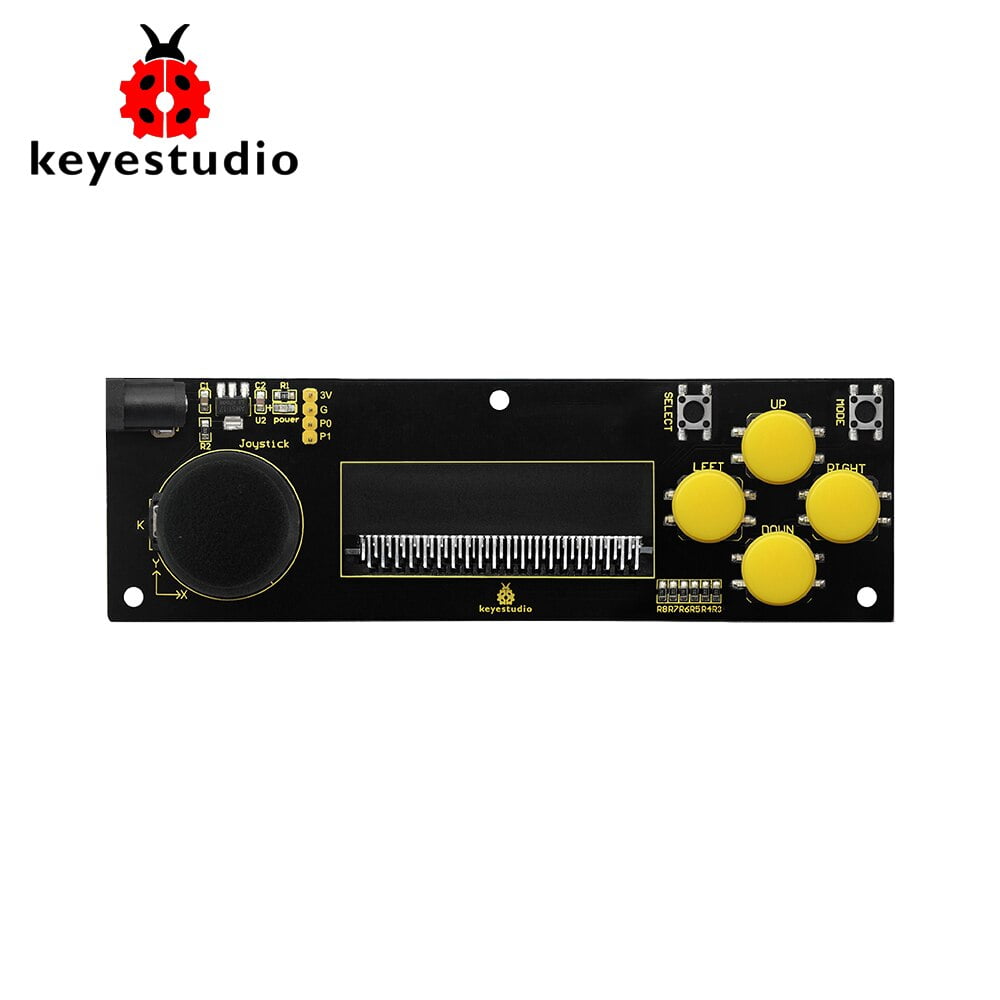 Want to use your BBC Micro:bit more creatively? this joystick BBC micro:bit Extention board from Keyestudio, unleashes its potential!
The AMS1117 chip is included with the Keyestudio joystick breakout board for Micro:bit. You may supply the Micro:bit development board with power using an external DC4.75-12V source.
It can be used to simulate the mouse or keyboard. Connect the onboard pins 3V、G、P0、P1 to micro:bit main board to get analog serial port, connecting the Bluetooth devices.
10. LCD Display Screen Module for BBC micro:bit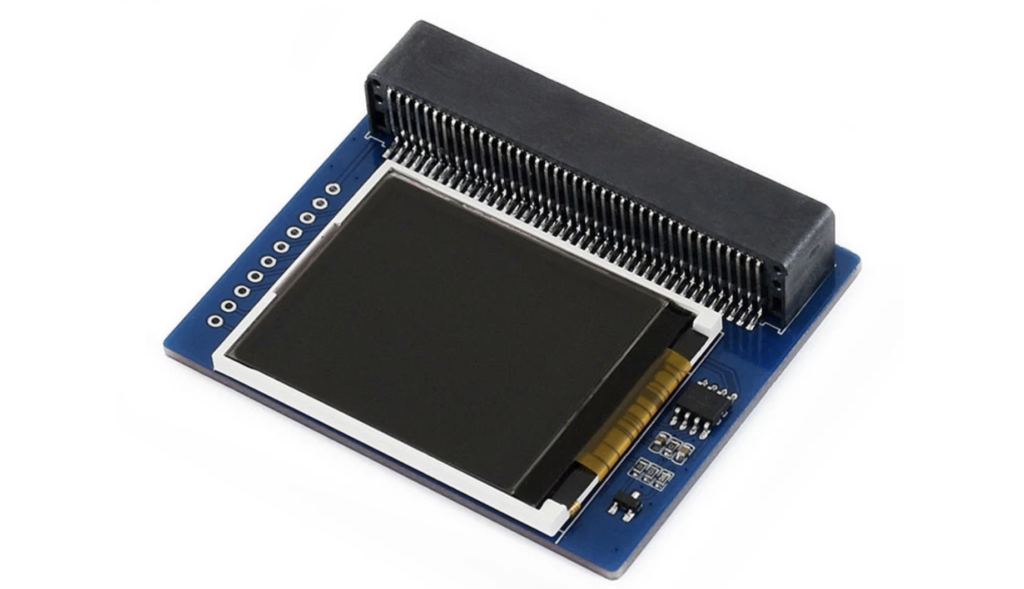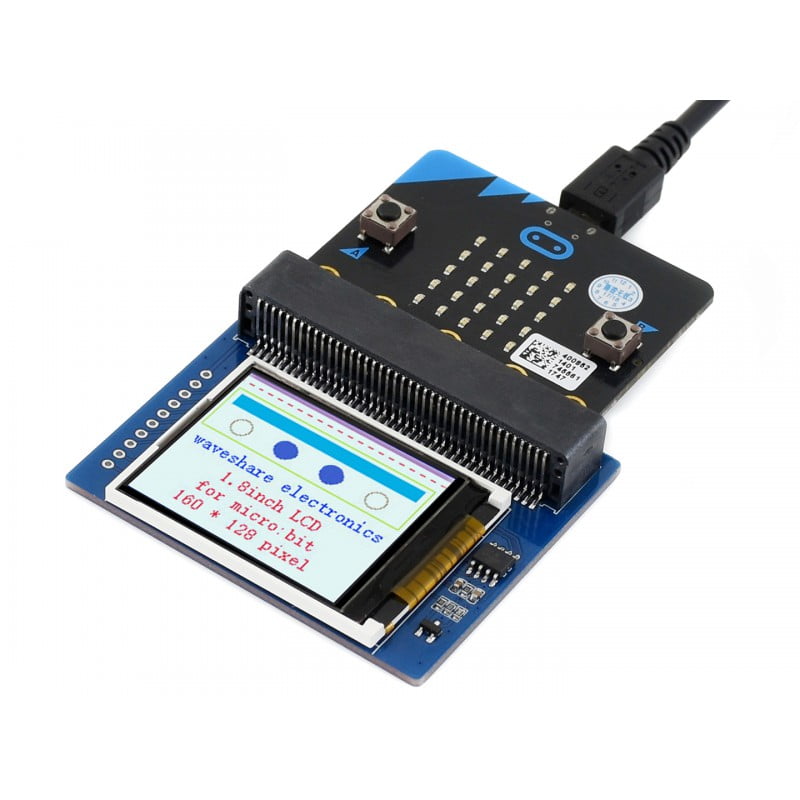 This micro:bit extention is from Waveshare with a 65K-color LCD display module with a 1.8-inch diagonal and 160×128 pixels has been for the BBC micro:bit.
The 5×5 LED matrix is getting old. It's time to get a miniature monitor for your Micro:bit, and this one would be a great option.
Features
micro:bit edge connector, directly pluggable
Embedded driver ST7735S, supports 65K colors
Onboard SRAM 23LC1024, used as display cache, no more out of memory
SPI interface, takes up only a few IO pins
Backlight adjustment via PWM
Reserved solder pads for control interface, make it easy to connect with Arduino/Nucleo boards
Comes with development resources (micro:bit graphical demo/user manual, etc.)
Buying Guide
| Extension Board | AliExpress | Amazon.com | Amazon.in |
| --- | --- | --- | --- |
| 1. EMakeFun Extention Board for Micro:bit GPIO Expansion | | | |
| 2. Freenove Micro:Rover Kit for BBC micro:bit V2 | | | |
| 3. Extention Board for Micro:bit V2.0 | | | |
| 4. DFRobot Math Automatic Extention board | | | |
| 5. Gamepad Joystick Breakout Board | | (different model) | |
| 6. Programmable Robot Car for Microbit V2 | | | |
| 7. BBC Micro: bit DIY Kit Mini Breadboard | | (different model) | |
| 8. Microbit Extention Board Building Block | | | |
| 9. Keyestudio Joystick Breakout Board for BBC Micro:Bit | | | |
| 10. LCD Display Screen Module for BBC micro:bit | | | |