Artificial intelligence is considered an IT marvel nowadays. It has revolutionized the industry. Various tasks that required the involvement of human resources are now easily accomplished with the help of computers, smart devices, and computer-administered machines. Take the example of image to text conversion. In the old days, converting bulky paper files with valuable data was possible through manual data entry. Some businesses also used to save such data digitally by clicking snaps of necessary documents.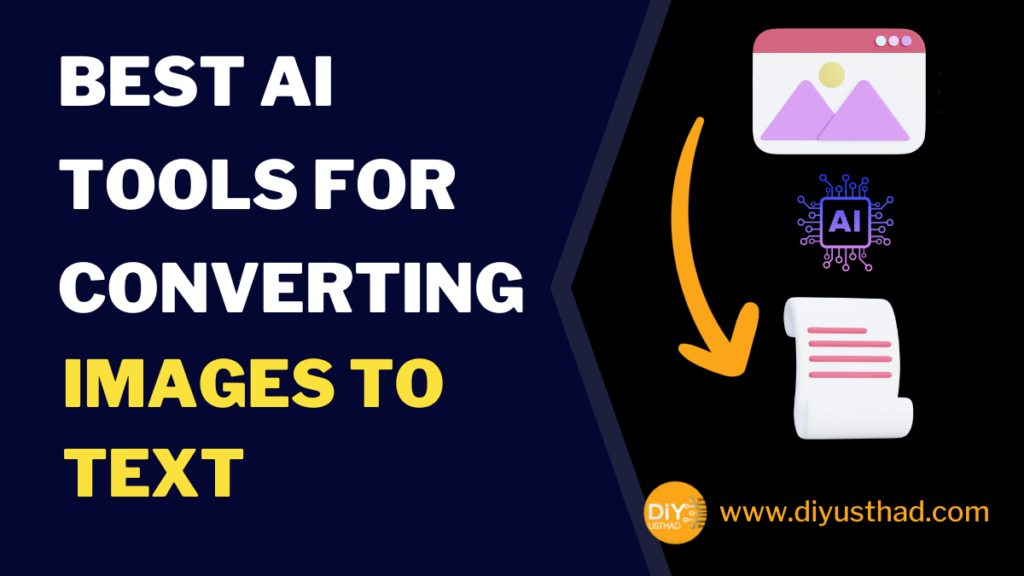 Both these methods had their shortcomings. Manual data entry required significant time, effort, and involvement of human resources. Despite the use of significant human resources, time, and effort, manual data entry was not free of error. Such errors sometimes lead to serious monetary losses. Conversely, clicked snaps of essential documents were hard to sort and organize.
Moreover, it was difficult to find the required data from such pictures. Data saved digitally in the form of pictures was also hard to edit and modify.
However, AI has come up with a brilliant application named OCR (Optical Character Recognition) algorithm. This algorithm uses machine learning to recognize characters and convert data featured by an image to easily editable text. This conversion helps businesses and individuals save necessary data in digitally editable text files. The best part is they can keep the text in their preferred file formats to ensure ease of use. Many people think that converting data from image to text could be a costly affair, but contrary to their assumption, it is highly cost-effective.
They simply need a tool that can help convert data from an image to text online. Fortunately, this article discusses a handful of such tools. Read on to learn more about them. Further details are given below.
Image to Text Converter by SmallSEOTools.com
SmallSEOTools.com is a popular online platform offering multiple useful tools to help netizens perform their everyday tasks. It also offers an accurate image to text converter capable of scanning text from low-resolution images, identifying mathematical equations, and converting handwritten notes to digital text. It can also extract social media content from screenshots. Users can easily access it through various devices to convert data from images to text that is easily editable. 
It also offers photo to text conversion support for multiple languages. Users can easily upload or import images from popular cloud storage platforms for conversion. After conversion, this tool also allows users to perform batch conversion by uploading 3 images of up to 5 Mb size at max in one go. The best thing about this highly accurate tool is users can use it for free without paying a single dime.
.
Editpad's Image to Text Converter
As the name suggests, the main purpose of this website is to offer various online utilities related to the modification and analysis of text. One of Editpad's renowned tools is its free image to text converter. Users can use it easily online. Its simple interface helps it ensure ease of use for users who can use it to fetch valuable text from images and save it digitally. It is an online tool, which means users can access it through multiple kinds of devices easily if they have internet connectivity.
It requires users to upload a picture from the device's storage or paste its URL to convert featured written content to editable text. This tool supports multiple image formats, meaning users don't need the picture in a specific format for image to text conversion. It doesn't require any registration from users to initiate the conversion process. Users can easily extract readable text from images using this tool without facing any hassles.
Image to Text Converter by OCR2Edit
While OCR2Edit hosts a handful of conversion tools, its name suggests that it was initially developed to house an efficient image to text converter tool. The tool available on this website earns a name in our lists because of its accurate results. Users can access it online through various devices. It requires them to upload images from the device's storage for conversion purposes. It also supports multiple languages and allows users to choose the language of text before starting conversion. 
After converting data from image to text file, it gives users a few options regarding the digital preservation of text files in the device's storage or cloud platform. Users can choose any option according to their requirements. This tool allows users to download the converted text as a zip file. The only shortcoming of this tool is it doesn't provide a preview of the fetched data from the image immediately. Otherwise, it is a perfect tool for image to text conversion that is available for free.
The Takeaway
Accurately converting valuable data from the file saved as an image to text document is neither tricky nor costly anymore. Highly accurate AI tools for photo to text conversion are available online to help individuals and organizations get accurate results. We have discussed a few perfect tools in this article to help our readers. Hopefully, they will use any of the aforementioned tools to fetch text from images accurately.